The Problem
The Washington, D.C. metro area is one of the most congested regions in the U.S. As the area's population continues to grow with no signs of slowing down, increased traffic volume along the Interstate 495 (I-495) corridor threatens to cause more congestion, delays, and safety concerns.
Background
The Washington, D.C. metro area ( the National Capital Region) is centered on the nation's capital, but also includes portions of three states: Maryland, Virginia, and West Virginia.
Average Annual Weekday Traffic (AAWT) for Leesburg Pike (route 7) at I-495, in Fairfax County, Virginia, in 2020 was 33,000.1 For Average Annual Daily Traffic (AADT) for that same area in 2020 was 31,000. So, as you can see, this area is busy both during weekdays and weekends.
This area is no stranger to attempts at congestion improvement. In the mid-2010s, the state of Virginia got its very first High Occupancy Toll (HOT) lanes, and guess where they went? On I-495. The aim was to reduce congestion by encouraging carpooling.
The Solution
How do you design and build something that benefits residents, commuters, and visitors? A design-build project called the 495 Express Lanes Northern EXTension (495 NEXT) has kicked off and will do just that. The project will address travel demands (current and future ones) and relieve pressure on the general-purpose lanes.
The 495 NEXT project will affect a 2.5-mile stretch of I-495 from Tysons Corner to George Washington Memorial Parkway in Northern Virginia.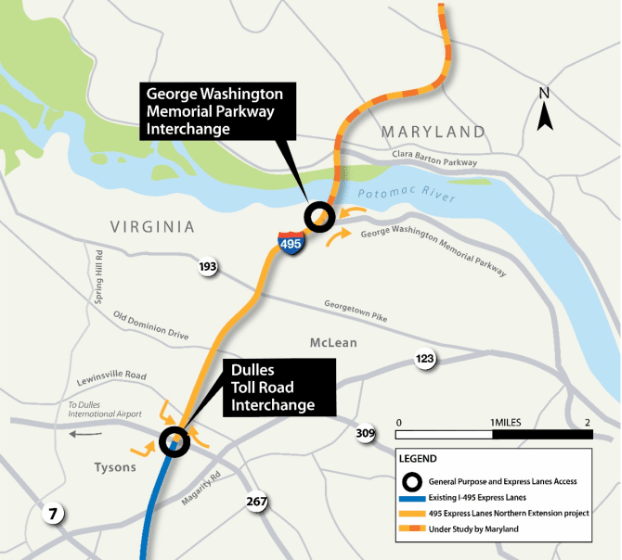 This project is a public-private partnership between the Commonwealth of Virginia and Transurban; Transurban in turn selected Lane Construction as the design-build contractor for the project.
Virginia Secretary of Transportation Shep Miller summed up the project's goals at the groundbreaking in March 2022:
"495 NEXT is an important new link in the safe and modern transportation system … This extension to our express lanes system will provide needed relief for a highly congested portion of the Capital Beltway, providing major benefits to the greater region. This regional approach is crucial to solving our transportation challenges, and through close coordination with our partners in Maryland, Virginia's 495 NEXT project will be built to connect and complement future improvements in the Capital Region."
Benefits
Reduced congestion and improved travel reliability (for both commuters and visitors)

Travel time — Located in northern Virginia, this project is projected to cut travel times for I-495 Express users by 24 minutes2. Roundtrip, that saves nearly an hour a day, and over the course of a week that will really add up.
New lanes — The 495 NEXT project will extend the existing I-495 Express Lanes for 2.5 miles, from south of Old Dominion Drive (the "Dulles Corridor") northward to the George Washington Memorial Parkway (near the American Legion Bridge), and will add two High Occupancy Travel (HOT) lanes in each direction.
Bridges — This project will replace multiple overpasses. Specifically, seven bridges will be replaced or rehabilitated, including pedestrian accommodations — sidewalks, bike lanes, and crossings.

Improved safety

This project is projected to reduce crashes by 20%.2

Improved resident satisfaction

There will be a reduction in cut-through traffic on residential streets. If the area's main travel artery isn't clogged, motorists will be able to use it instead of rerouting themselves through residential routes.2
Noise Walls – New and restored noise walls along this stretch will benefit the local communities, making life at home more peaceful and enjoyable. Nine existing noise walls will be restored/replaced and one new noise wall be will be built.

More travel choices

This project will deliver new travel choices including cross-state American Legion Bridge bus service, and bicycle and pedestrian connections.

Money and Jobs

The 495 NEXT project will generate 6,300 jobs and have a net $280M positive economic impact according to estimates.2
This project is expected to be completed in 2025. According to Virginia Department of Transportation (VDOT) Commissioner Stephen Brich, "495 NEXT provides for a future … lanes network that will help solve the region's congestion and improve quality of life."
(1) Virginia Department of Transportation. Traffic Engineering Division, Traffic Monitoring Section (2020).
(2) Virginia Department of Transportation. Office of Public-Private Partnerships. 495 EXPRESS LANES NORTHERN EXTENSION (495 NEXT).