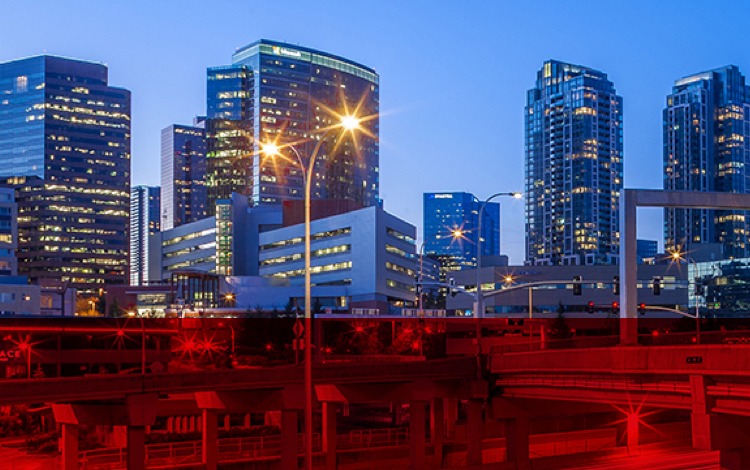 Photo: Tampa Spotlight
Since the 1990s, Lane's reputation in Florida has grown rapidly, adding larger projects, hundreds of skilled workers, and more innovative solutions to complex infrastructure to benefit the state and local community. Now preparing to kick off the I-275/I-4 Downtown Interchange (DTI) in Tampa, Lane is recruiting skilled craft workers, engineers, and project leadership to come experience all that Tampa has to offer.
Tampa is the third largest city in Florida and nestled in Tampa Bay, an area home to about 4 million residents. It is host to a variety of outdoor activities based on or near the water given the coastal city's close proximity to the Gulf of Mexico. Tampa is known for its ideal weather conditions nearly year round, which created the perfect setting for outdoor entertainment on the Downtown Riverwalk, sporting events at the University of Tampa, rides and attractions at Busch Gardens, and of course beautiful coastlines of pristine beaches. Residents enjoy boating, hiking, swimming, fishing, various athletic activities, and plenty of communal recreational space for families and friends to enjoy the outdoors. The city is also home to the Tampa Bay Buccaneers, the Tampa Bay Lightning, and the Tampa Bay Rays, giving the city a sense of comradery and pride in their home's professional sports teams
If indoor activities are more your style, Tampa offers professional and recreational events at the Tampa Convention Center, inspired exhibits at the Tampa Museum of Art, and family-friendly concerts and performances at the Straz Center.
Families frequent the Tampa Zoo, Florida Aquarium, Big Cat Rescue, and unique experiences at the area's many museums, parks and gardens. Disney World is just a short, one hour drive away, and Clearwater Beach is an easy day trip from the Tampa area.
Apart from Tampa attractions, residents in the area also enjoy no state income tax, large and diverse school districts, and relatively inexpensive housing compared to other areas in the U.S. The city is an inclusive melting pot with an up-and-coming local food scene, year-round cultural events, and an exciting job market that is growing faster than the countrywide average.
Lane's Florida teams are taking on some innovative and sustainable projects aiding in the fast growth of infrastructure that improve communities such as Tampa and the surrounding areas. Picture yourself here in your next career move with Lane. Apply now to join our growing team of professionals or create a profile at https://www.laneconstruct.com/work-with-us/craft-trades.