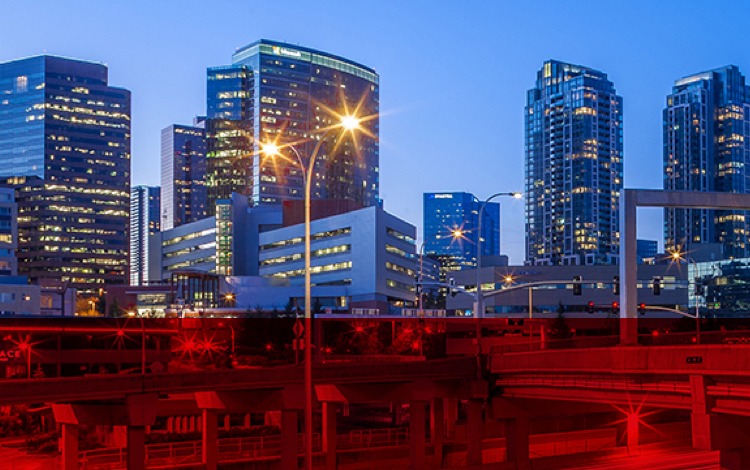 Dulles Automated People Mover
The Washington Dulles International Airport (Dulles) is one of the busiest airports in the United States. To keep up with ever-increasing air transportation demands, the airport had to find a way to transport people to gates faster and solve the problem of overcrowding in the terminals and on the tarmac.
Overview
AeroTrain, Dulles International Airport's new two-mile-long, dual-line underground train system, keeps people moving efficiently from the main terminal to the midfield concourses and has allowed passengers to reach connecting flights more quickly.
As a subcontractor on the construction of AeroTrain's main station, Lane completed excavation, support of excavation, structural concrete, bush-hammered architectural concrete, aesthetic finishes, and site infrastructure work.
AeroTrain replaced most of the current mobile lounges that transported passengers between the airport's main terminal and concourses. Construction of its main station, adjacent to the airport's main terminal, required a vertical cut 50 feet below ground at the base of the terminal and the air traffic control tower. Both structures were underpinned with an extensive micropile and shoring system.
Technical Highlights
The underground main station building is four floors high and measures 1,200 feet long by 100 feet wide by 50 feet high. The bottom level of this structure is similar to a subway station.
The top floor has a very complex, post-tensioned, cast-in-place roof structure with enormous skylights and hard finishes (terrazzo, metal panels, glass) which mimic the original design.
Surrounding the passengers is over 15,000 cubic yards of architectural concrete, approximately 1/3 of the total 50,000 cubic yards of structural concrete placed. As the train leaves the station, they ride over the track invert connecting the east and west stations as one. The passengers then travel through one of the four sections of cut and cover tunnels Lane constructed leading them out of the main station.
RECOGNITION
The project won Mid-Atlantic Construction's Best of 2009 Award Project of the Year – Transportation. Lane was issued "Certificate of Achievement" for no recordable injuries for 2007.