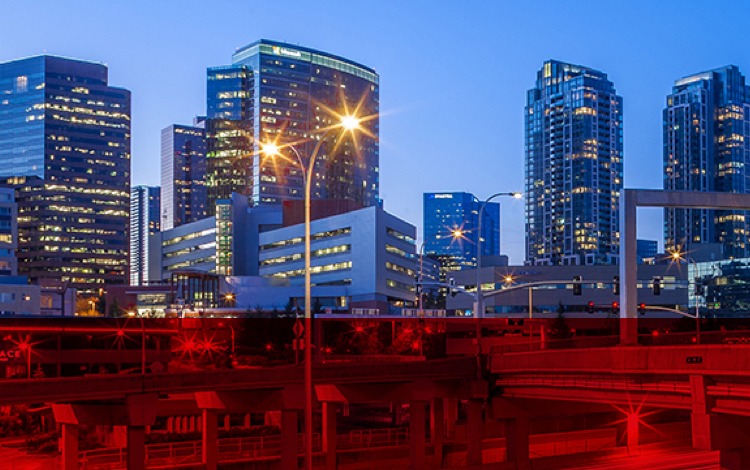 Florida's Turnpike Widening from South of Osceola Parkway to Beachline Expressway
Florida's Turnpike is a major toll road used by more than 2 million travelers each day. As part of the Florida Highway System, it provides access to major routes from Miami to Central Florida.
7
Miles of Highway Widening
2,000,000
Daily Travelers
Overview
Lane widened 7 miles of Florida's Turnpike from 4 to 8 lanes, with 2 express lanes and 2 general purpose lanes in each direction, including construction of new toll gantries. The project aims to reduce congestion by offering drivers the choice to use express lanes with varying toll prices depending on traffic conditions.
Technical Highlights
Technical Details
The project included construction of three new ramps at the SR 417 interchange:
1,882-foot-long third level steel box girder bridge
1,715-foot-long third level steel box girder bridge
at-grade ramp
Other bridge work included the replacement of Florida's Turnpike bridges:
over the Central Florida Rail Corridor
over the Central Florida Parkway/CSX Railroad Spur
at the existing Orange County roadway overpasses at CR 527 (Orange Avenue), Taft-Vineland Road, and at the SR 528 interchange
Other work activities include:
signing and pavement marking related to the new express lanes
drainage and stormwater management improvements
upgrades to ITS infrastructure
RECOGNITION
Florida Transportation Builders' Association's (FTBA) 2021 Best in Construction Award – Interchange Category
Florida Transportation Builders' Association's (FTBA) Disadvantaged Enterprise "DBE" Utilization Achievement Award