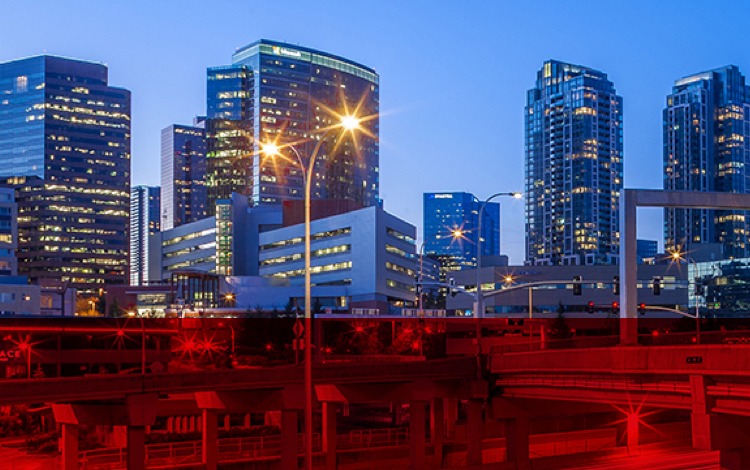 I-10 Corridor Express Lanes, Contract 1
The Inland Empire, the metropolitan area in Southern California where I-10 is located, has experienced significant population growth over the past several years. In San Bernardino County alone, the population is expected to grow 30% by 2035.
18
Bridge Improvements or Replacements
11
Miles of Highway Widening
2,177,450
Tons of Earth Moved
Overview
The I-10 Corridor serves on average 265,000 daily local, commuter, and interstate travelers, and is a critical link within the Inland Empire. It also serves as a major trucking route between Southern California and the rest of the country.
Lane, in a joint venture with Security Paving Company, Inc., is designing and constructing 11 miles of two express lanes in each direction of I-10 from the Los Angeles/San Bernardino County line to east of the I-10/I-15 interchange. Improvements will include 8 bridge replacements, 8 bridge widenings, and 78,601 feet of new drainage. The JV team will use 7,861 tons of rebar steel and 670,000 tons of concrete in the new construction.
Once completed, the project is expected to reduce traffic congestion, increase throughput, enhance trip reliability, and provide long-term congestion management of the corridor in the Inland Empire. Construction started at the end of 2019 and is to be completed by the end of 2023.
Technical Highlights
The project includes:
11 miles of highway widening
285,000 cubic yards of PCCP concrete
100,000 cubic yards of structural concrete
partial pavement rehab
8 bridge widenings
8 bridge replacements
2 bridge improvements
2,177,450 tons of earth moved
78,601 linear feet of new drainage systems