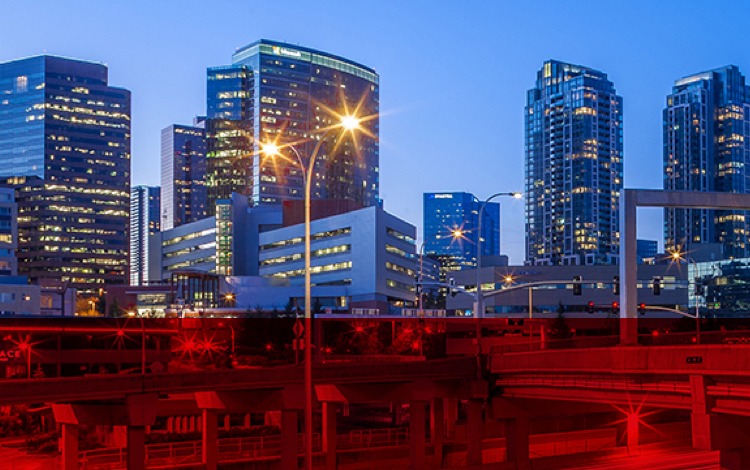 Lane reconstructed 10 miles of I-35 in the Waco area that included new two-lane asphalt and concrete frontage roads, and concrete reconstruction of six main lanes (three in each direction).
10
Miles of Highway Reconstruction
61,000,000
Gallons of Reclaimed Water Used in Civil Activities Instead of Drinking Water
Overview
The project included major bridge structures that serve as a main artery for both pedestrian and vehicular traffic to/from the Baylor University football stadium.
Lane operated two onsite batch plants: one that produced over 430,000 CY of concrete for main lane paving and structures; and another that produced over 300,000 tons of hot mix asphalt used for constructing detours, concrete underlayment and portions of the frontage roads. Lane self-performed all grading and drainage operations, erosion control, bridge construction, asphalt and concrete paving, traffic control, and project/construction management.
To preserve water in one of the most drought-stricken areas in the country, Lane used 61 million gallons of reclaimed water from a nearby wastewater treatment plant to produce the concrete required for the project.
Technical Highlights
The project included:
433,000 CY of PCC
300,000 TN of asphalt paving
two million CY of excavation
26 bridges including a signature bridge over the Brazos River and a direct connector bridge connecting FM 2013 directly to the northbound lane I-35
RECOGNITION
2012 American Road & Transportation Builders Association Award for Training Programs/State Level: Effective Use of Law Enforcement in Work Zones Training
2014 Engineering Excellence Award from the Florida Institute Consulting Engineers: Brazos River Bridge
2016 Long Span, Modern Steel Construction Magazine Prize Winner