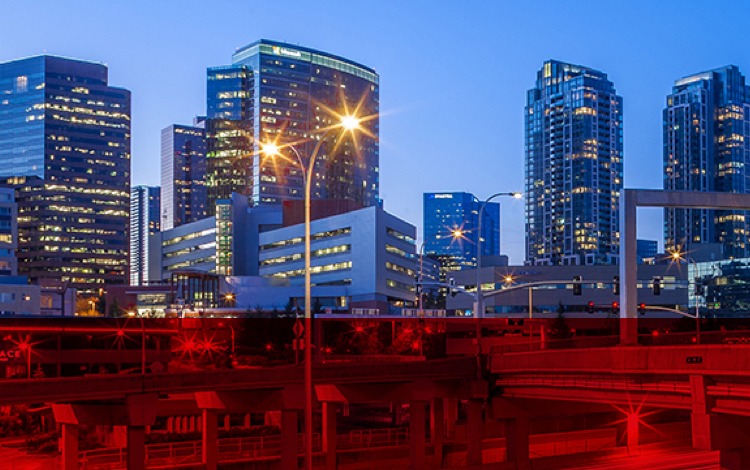 I-85 over the Yadkin River
The southern segment of the Interstate 85 Corridor Improvements Project included comprehensive upgrades to the highway, bridge and rail infrastructure located along a vital stretch of I-85 in North Carolina's Triad region. This corridor is the most direct and heavily traveled route between Richmond, VA and Atlanta, GA carrying nearly 70,000 vehicles each day.
Overview
Lane, in a joint venture with Flatiron Construction Corporation, upgraded nearly seven miles of I-85 in Davidson and Rowan Counties. Work included road widening from four to eight lanes, roadway realignment to eliminate sharp curves and improving the interchange to NC 150.
A total of eight bridges were replaced, including the bridge that carries I-85 over the Yadkin River. The deficient two-lane bridge was replaced with dual four-lane structures approximately 2,700 feet long that meet the 70-mph speed standards for a rolling urban freeway and interstate. The increased span of these new parallel bridges will also provide room for future rail improvements, including the alignment needed for the implementation of high-speed rail and the addition of new freight tracks.
To avoid disruption of wetlands and reduce the anticipated construction schedule by nine months, the Flatiron-Lane team proposed using one 2,300-foot-long trestle (temporary access work bridge) down the center of the river.
Complex maintenance of traffic (MOT) to replace the bridge carrying I-85 over the Yadkin River phases was required. This included shifts, major bridge designs, and extensive collaboration between team members. After the northbound lanes were constructed, all traffic was moved onto the northbound side of I-85 for construction of the southbound lanes.