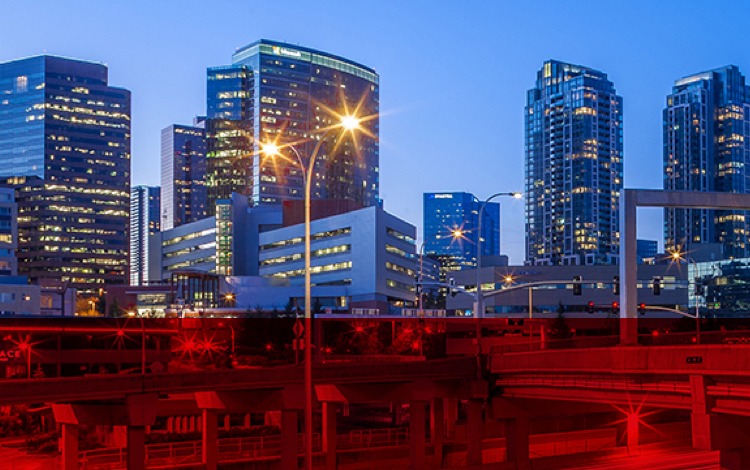 Lake Mead is the largest reservoir in the United States in terms of water capacity. It serves as the main water supply for the residents and tourists of the iconic city of Las Vegas. The Colorado River, which brings water to the area, is flowing less forcefully because of a severe, multi-year drought resulting in the water level of Lake Mead dropping 110 feet since 2000, leaving it at half capacity.
90%
Southern Nevada's water comes from Lake Mead
25,000,000
People in Nevada, Arizona, and California supplied by Lake Mead water
3
Awards for Excellence in Tunneling and Engineering
Overview
The Lake Mead Intake No. 3 Program is intended to protect the existing water system capacity of the Southern Nevada Water Authority (SNWA) against potential inoperability of the existing intakes. It also enables better quality water to be drawn from a deeper elevation/location in the lake, and brings clean water to more than two million people in southern Nevada.
The project was one of the most technically challenging in the industry because of the very complex geological conditions. It required tunneling under water pressure that was so extreme, it had never been done before. The intake structure itself was located 377 feet deep in the middle of the lake.
Technical Highlights
The project included design and construction of the following structures:
15,000-foot-long intake tunnel bored in rock with cover ranging from 587 feet (at launch) to about 30 feet upon entering the intake structure
Custom dual-mode, slurry shield tunnel boring machine designed to withstand 17 bars of water pressure or 40,000 gallons per minute.
30-foot finished diameter, 611-foot deep access shaft
Stub Tunnel from the access shaft at a depth of 400 feet that is 83.5 feet long from shaft to bulkhead
202-foot-long Tunnel Boring Machine launch chamber at the bottom of the shaft
85-foot-long IPS-X connection stub tunnel and back-shunt tunnel
360-foot-long, 26-foot horseshoe TBM tunnel
Significant Marine Works Include:
11,000 of tremie concrete placed underwater
48,000 CY of material excavated underwater
In-house design and engineering
Preservation of endangered wildlife within a national park
RECOGNITION
2016 Outstanding Civil Engineering Achievement Award, American Society of Civil Engineering (ASCE) Finalist
2016 Tunnel Achievement Award for Project Excellence (Tunnel Business Magazine)
2015 Global Tunneling Project of the Year (over $500 million), Tunneling & Underground Space Awards