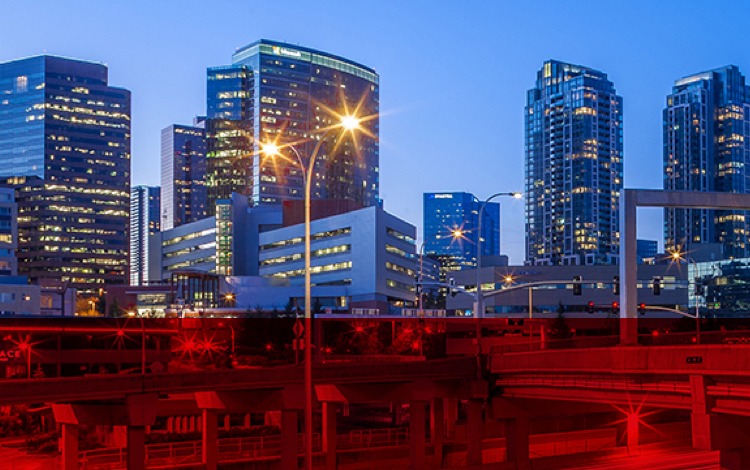 Long Beach International Gateway
Long Beach International Gateway (formerly the Gerald Desmond Bridge) replacement provided an essential upgrade to the Port of Long Beach, a central hub in the nation's trade system.
60,000
Vehicles traverse the new bridge daily
$2 Billion
In Southern California increased economic activity
Overview
The former bridge, built in 1960, was not designed to handle today's large cargo ships or traffic volumes. Although the outer harbor docks are already handling the world's largest cargo vessels, the previous bridge prevented those ships from reaching the Inner Channel. The new bridge raised the vertical clearance over the channel from 155 feet to 205 feet, allowing the latest generation of large cargo ships to enter the Port.
In addition, the bridge accommodates three lanes of traffic in both directions and includes four emergency lanes – increasing its capacity for the 68,000 travelers using the I-710 freeway over the bridge each day. The emergency lanes help to reduce traffic delays and safety hazards from accidents and vehicle breakdowns.
The main component of the project is the cable-stayed bridge that stretches 1,000 feet between the two 500-foot tall pylons, with high-level approach stands at each end. The pylon towers have a unique octagonal single-tower structures that transform to a diamond shape at the top. The new bridge upholds current seismic codes and a 100-year design life.
Technical Highlights
The project included:
bridge approaches comprised of two independent concrete box girders with cantilever decks
improved interchanges between the I-710 freeway and Ocean Boulevard,

 

Pico Avenue, and SR-47
three lanes in each direction for improved traffic flow
a 205-foot clearance over the channel to accommodate new Panamax

 

cargo ships
a reduction in the bridge's steep grades for further improvements to traffic flow
a new bike and pedestrian path that includes three scenic overlooks across the new bridge.
RECOGNITION
2021: Project of the Year from the California Transportation Foundation
2022: International Bridge Conference Executive Committee, awards George S. Richardson Medal recognizing outstanding achievement in bridge Engineering, design, construction.