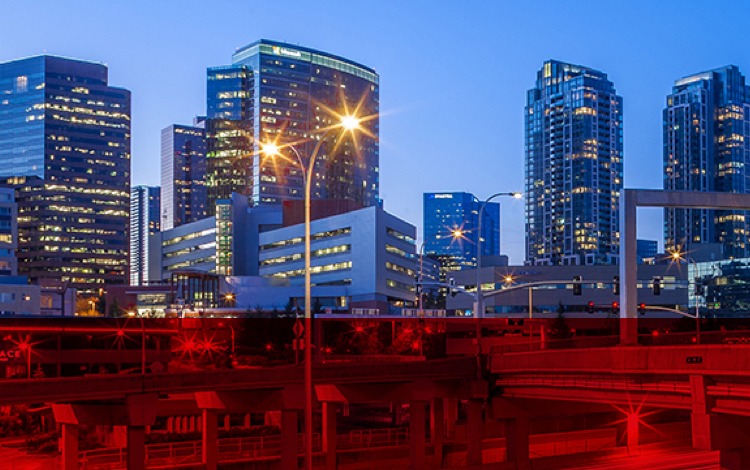 As a result of the completion of the Panama Canal expansion in 2016 by Lane's parent company Webuild (previously Salini Impregilo), large container ships can now pass through the canal to access east coast ports. This has caused the Port of Charleston to become one of the fastest growing major container ports on the east coast – playing a critical role in global maritime trade, especially between the United States and Asia.
1,200,000
Million Square Feet of New Bride Deck
3
Level Flyover Interchange
Overview
To accommodate this growth, the Fluor-Lane joint venture team constructed a new direct access road from I-26 to the Port terminal. The modification of exits 217 and 218 on I-26 features a three-level flyover interchange. The new roadway is an elevated viaduct which avoids impediments including railroad crossings, tidal creeks, and hazardous material locations.
The new direct access road improvements ease local and commuter traffic and safely integrate container terminal traffic within existing operations as the Port's water and land traffic continues to grow.
Technical Highlights
This project included:
more than 1.2 million square feet of new bridge deck, 117 drilled shafts, and 90,000 LF of pipe pile
new fully directional interchange on I-26 to serve both commercial and local traffic
new connector road and extension of Stromboli Avenue
associated roadway improvements to surface streets that will serve the proposed Naval Base Terminal in Charleston County
other roadway, bridge, local road relocation and paving, drainage, existing utility relocations, erosion control, MSE and retaining walls, demolition, and noise barriers
BENEFITS/POSITIVE IMPACT TO COMMUNITY
Construction noise mitigation strategies were implemented to minimize noise impacts to adjacent residential and business areas.
The project team worked closely with local and regional planners to support long-term planning strategies and policies.
The project provides container terminal traffic with access to I-26 and efficient integration with existing traffic.