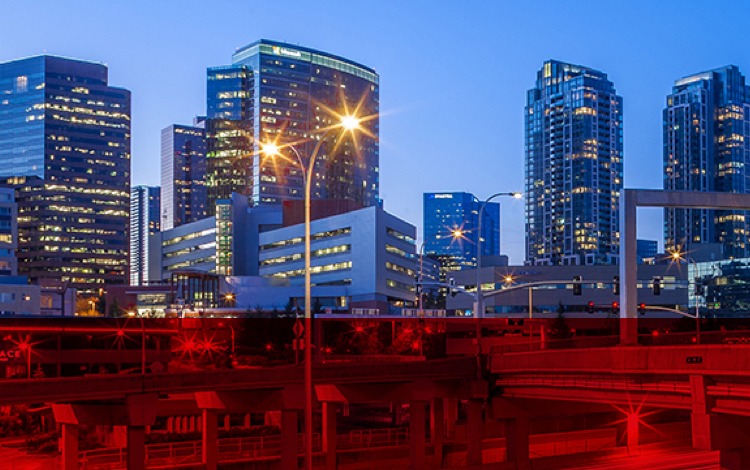 The Route 29 Solutions program includes eight highway projects to improve safety and increase mobility along the Route 29 corridor in Charlottesville and Albemarle County. Lane, in a construction joint venture with Corman Construction, Inc., completed three of the eight projects in this program.
Overview
As part of a $116.7 million contract, Lane/Corman widened Route 29 between Polo Grounds Road and Towncenter Drive, extended Berkmar Drive from Hilton Heights Road to Towncenter Drive, and constructed a grade-separated intersection at Route 29 and Rio Road.
The widening project converted 1.8 miles of Route 29 from a 4-lane divided highway to a 6-lane divided highway by adding an additional lane on both sides of the roadway. Lane/Corman constructed curb and gutter, as well as sidewalks, on both sides of the highway. During construction, two lanes of traffic and all existing access points were maintained in both directions.
The Berkmar Drive Extension project extended Berkmar Drive north 2.3 miles from its current terminus at Hilton Heights Road to Towncenter Drive. The project included a bridge spanning the South Fork Rivanna River to the west of the Route 29 bridges.
The Rio Road Intersection project provided a grade separation to move traffic more efficiently through the intersection of Route 29 and Rio Road, one of the most congested intersections on the corridor. Four through lanes, two in each direction, were constructed underneath Rio Road to carry Route 29 north and southbound. Local lanes on the outside of the through lanes were constructed to allow for easy access and egress from Route 29 to Rio Road. Lane/Corman developed a maintenance of traffic (MOT) plan for Route 29 and Rio Road during construction between May 23 and September 2, 2016, which included allowing for right turns only from Route 29 to Rio Road.
Each of the three projects included construction of bike lanes and multi-use paths, providing increased transportation options for people using the corridor.