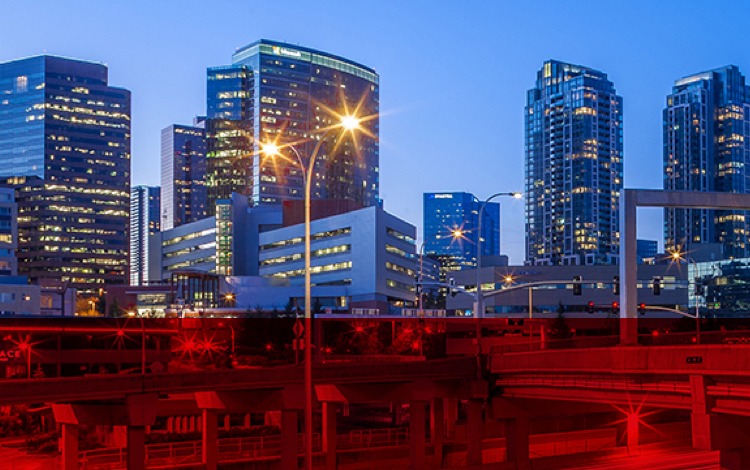 SR 408/ SR 417 Interchange Improvements
The SR 408/SR 417 interchange in Central Florida is one of the largest and most heavily traveled interchanges linking northeast Orlando and downtown. The interchange connects Seminole County and East Orange County to Downtown Orlando, and provides a direct route to the Orlando International Airport from the north as well as alternative access to area tourist attractions. This project was needed to reduce peak-time traffic congestion and improve traffic flow at the intersection of SR 408/SR 417.
Overview
The SR 408/SR 417 improvements created a true system-to-system interchange that eases congestion and provides safe and efficient movement of traffic, improved capacity, and proper driver expectancy.
Work included the widening of SR 408 from six to eight lanes (four in each direction); the elimination of exit and entrance ramps at Valencia College Lane; and the construction of a new two-lane ramp from eastbound SR 408 to northbound SR 417.
The complexity of the interchange required the design and construction of numerous bridge types, each appropriate for its location and purpose on the site. This ensured the effective movement of traffic while controlling construction costs.
Five overhead signs were installed that meet newly adopted guidelines in the Manual on Uniform Traffic Control Devices. Some of the first in Florida, these massive signs guided motorists to upcoming lane assignments.
Nearly 13,000 linear feet of soundwalls were installed, including the first transparent bridge-mounted noise barriers in Florida. The barriers were crash tested and reduce the additional dead load on the bridge compared to traditional barriers.
The project was completed ahead of schedule while maintaining the interchange flow of 170,000 vehicles per day on SR 408 and 130,000 vehicles per day on SR 417.
RECOGNITION
2013 ENR Southeast "Best Projects" in Highways/Bridges