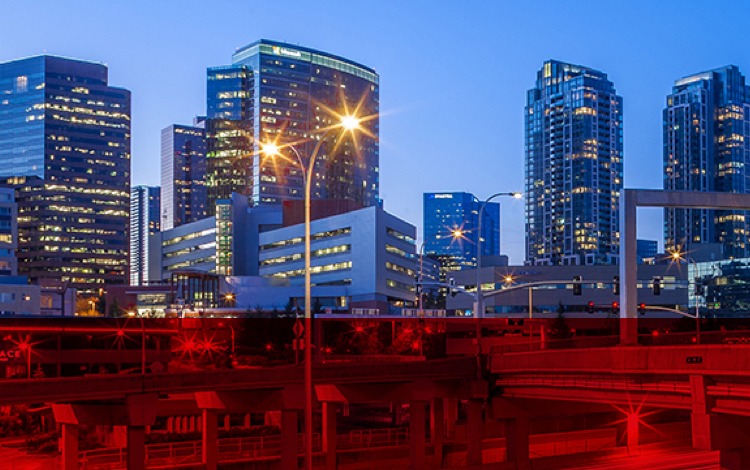 Photostory: Lane Projects Promoting Sustainability in Washington State
Lane's I-405 Renton to Bellevue Widening and Express Toll Lanes project will add new capacity to create a two-lane express toll lane system between Renton and Bellevue, Washington. The project will allow the addition of Bus Rapid Transit, creating easily accessible public transit to alleviate traffic congestion and decrease the number of gas-powered vehicles on the road. The joint venture (JV) with Flatiron Construction will offer more reliable travel choices, reduce congestion, and improve safety performance of the highway.
Lane's Ship Canal Water Quality Project will capture and temporarily hold more than 29.6 million gallons of stormwater and sewage during heavy rains. When the storm passes, flows will be released to the treatment plant. The new structures will prevent, on average, up to 75 million gallons of polluted stormwater and sewage from entering local waterways.
As construction continues on both of these important infrastructure projects in the Northwest, the project teams are carrying out thorough measures to make sure environmental sustainability is at the forefront of their work. From extensive training for every person on the job site, to regular comprehensive safety inspections, to restoration of local ecosystems as they work, the I-405 and Ship Canal project teams are committed to upholding Lane's value of sustainability.
This summer the I-405 team wrapped up the installation of fish culverts throughout the work area in partnership with the Washington State Department of Transportation. These 4-foot-wide trenches mimic natural fish-bearing waterways and help direct fish upstream to maintain their normal migration patterns during construction periods. These "pedestrian bridges for fish" protect the instinctual behaviors of native fish species during spawning seasons. In July, the I-405 crew also began restoration of natural fish habitats in May Creek. Workers removed all angular rocks throughout sections of the waterway and replaced it with more familiar rounded rocks and wood material to create more desirable fish habitats that promote species repopulation. The project will also include the construction of storm water ponds made from gravel and compost material. These ponds retain storm water until they can be slowly discharged into local waterways to prevent flooding. The ponds can also act as composting sites with the strategic addition of bacteria for the use of breaking down waste oils and fuel sources.
In addition to creating a more sustainable environment for wildlife and natural ecosystems, the I-405 JV is also considering the environmental footprint of Bellevue-area residents and commuters. The project team is constructing a nearly 6-mile addition to the Eastrail, an uninterrupted 42-mile trail that connects the communities of Renton, Bellevue, Kirkland, Woodinville, Snohomish, and Redmond. The I-405 project will include the construction of paved recreational paths that allow for alternative, sustainable commuting by foot, bicycle, or other means.
Sewage and stormwater from many older parts of the City of Seattle, including the Ballard, Fremont, Wallingford, and Queen Anne neighborhoods, is currently collected and conveyed in one set of pipes. In dry weather conditions, all sewage flows to a local wastewater treatment plant. During wet weather conditions, polluted runoff can exceed the pipes' capacity and send a mixture of stormwater (90%) and sewage (10%) to outfalls that flow into the nearest water body. These combined sewer overflows, or CSOs, contain contaminants that can make people sick and harm fish, wildlife, and the environment. The Ship Canal Water Quality Project will prevent polluted stormwater and sewage from entering local waterways. As a result of decreased overflow and cleaner water, the health of the ecosystems and natural wildlife habitats will improve.
To read more about Lane's sustainability and environmental stewardship efforts in Washington State, click here to discover the efforts taking place on Lane's Ship Canal Water Quality Project in King County.