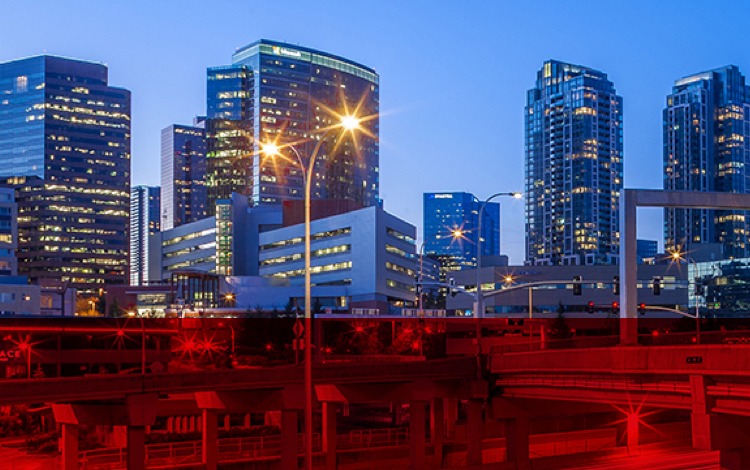 Picture Yourself Here: Ontario
The I-10 Corridor Express Lanes, Contract 1 project will help support expected population growth in the Inland Empire area of Southern California. This Lane-Security Paving joint venture project that began construction in 2020 is helping to expand Lane's name and sustainability efforts into the western states. Check out our #photostory to see why Ontario, California is the ideal location to start your new career at Lane!
Located in San Bernadino County, Ontario is a city with lots of charm. The primarily residential area offers a central location, generally safe environment, lower taxes, and amazing weather. This suburban city is less than an hour drive from Los Angeles, Irvine, Long Beach and only a two-hour drive from San Diego. Day trips to Los Angeles brings you to the vast amount of classic L.A. attractions such as Dodgers Stadium, Universal Studios Hollywood, Disney Concert Hall, Griffith Observatory, the Walk of Fame, and Los Angeles County Museum of Art. An hour drive to the west also takes you to some of the most breathtaking beaches the Pacific Ocean has to offer, from the iconic Santa Monica Pier  with its one of a kind night life and rich history, to the family oriented Sunset Beach with its nautical views.
You do not have to leave the suburbs of Ontario for fun as the city offers plenty of attractions of its own from the North Etiwanda Preserve, a 1,200-acre habitat preservation area to the Toyota Arena, a 225,000 square foot arena responsible for hosting over 125 events annually including concerts, family shows, and sporting events.  The Greater Ontario area is also home to some of the best peaceful retreats and spas, the largest one-story shopping mall on the west coast, prestigious vineyards like the San Antonio Winery, and exceptional dining opportunities.
The Cucamonga-Guasti Regional Park is the perfect place for family-friendly outdoor fun. The park offers a wide range of activities with its two lakes for pedal boats, cabanas, and finishing, a swim complex fully equipped with waterslides and splash pads and plenty of picnic tables. Ontario also has a variety of hiking trails all varying in level of difficulty and great for weekend adventures! Local indoor fun can be found year-round via indoor skydiving and rock climbing or for the less extreme the Museum of History and Art located in Nugent's Park teaches guests about the history of Ontario City, the Inland Empire, and Route 66.
Ontario is full of great restaurants showcasing many different cultures as well as traditional American fare. Alina's Lebanese Cuisine offers authentic, all organic Lebanese classics, Ontar Thai features nearly every Thai dish you can think of, and Don Won's Corner Deli will have you thinking you're in New York with its traditional deli staples, but also surprise you with a California twist on Korean barbeque. If you're in search for an ice-cold beer, the Office Bar may quickly become your local go-to dive bar. The cheap prices, friendly environment, and glasses that are held in the freezer attract a fun crowd and offer a nice place to kick back and make new friends.
The city that's conveniently equipped with its own international airport nearby has lots of appeal!  Ontario, California is overall a great place to live and lay down roots. The city that got its name from the Ontario province in Canada offers a more affordable living opportunity than some surrounding areas, with plenty of character. Come and join Lane in the Inland Empire area!