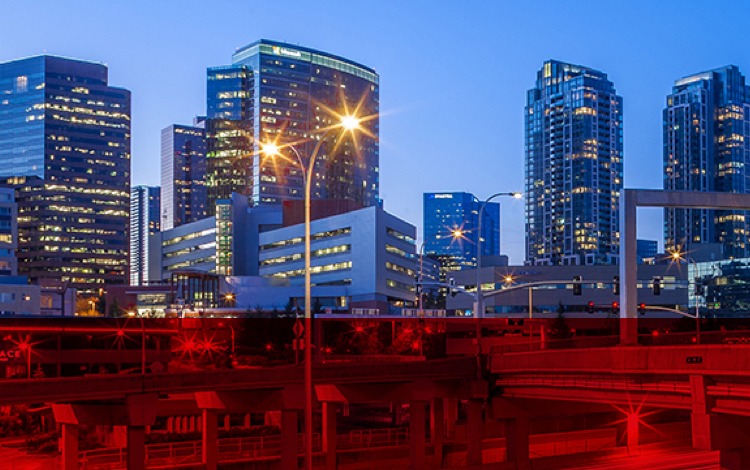 Photo: Ship Canal Water Quality Project
In April, an Earth Pressure Balance Tunnel Boring Machine (TBM), measuring nearly 22 feet in diameter was lowered into the main shaft on Lane's Ship Canal Water Quality project in Seattle to begin creation of a 2.7-mile-long tunnel that will store combined sewer overflow to reduce the amount of polluted stormwater and sewage flowing into Seattle-area waterways.
Parts for the TBM were shipped to Seattle from the Herrenknecht factory in Germany and assembled on the project site in the Ballard area of the city.
The deconstructed TBM was lowered in three parts (front shield, middle shield, cutter head) and assembled at the bottom of the tunnel's vertical shaft. The entire process took place over three days. The TBM and backup assembly, which requires one operator and a team of 6-10 miners per shift, is more than 483 feet long and weighs more than 865 short tons. It required teams from Lane, project owner Seattle Public Utilities, crane company Ness Campbell, and Herrenknecht working together to successfully lower the TBM into excavation position using a 600-ton crane. All teams were kept small due to limited space and COVID-19 Safety Protocols, but worked strategically and efficiently to maneuver the complex stages of the lowering.
The custom-designed TBM for this project includes 22 double-disc cutters, 48 scrapers and 16 bucket cutters, with the ability to remove about 400,000 tons of dirt during the planned excavation. In a ceremony hosted by Seattle Public Utilities to reveal the name of the TBM to the public, muralist Devin Finley created a Seattle-esque work of art painted directly on the machine, dubbed "MudHoney" after a popular area rock band who are also known for serving as advocates for environmental causes.
The Ship Canal Water Quality project is expected to be completed by 2025.
Check out our photostory to follow along with how skilled manpower, technical innovation, and incredible teamwork came together to assemble this critical machine that will improve the sustainability of Seattle's community.