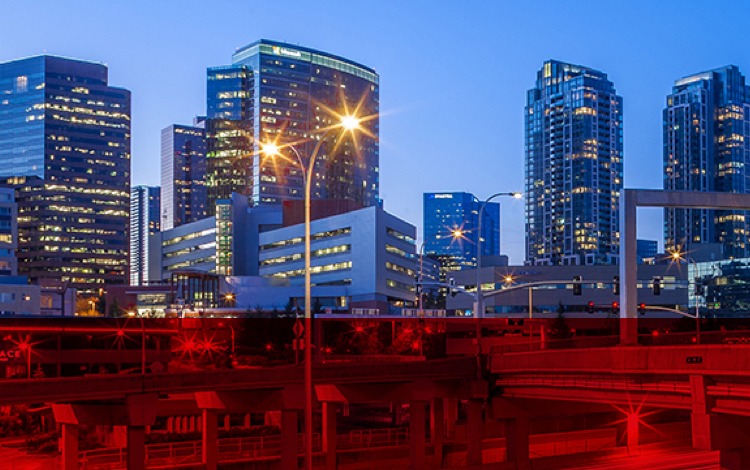 Photo: Washington D.C. Spotlight
From tunneling and highway infrastructure, to public transit and airport projects, Lane has helped improve the communities of our nation's capital for decades. The Washington D.C. area is filled with rich history, monuments, museums, restaurants, sports, and cultural experiences that make Lane's projects in D.C. the perfect place to start your new career.
Located just hours from Ocean City, Maryland or Virginia Beach, and a short car ride away from the gorgeous Maryland mountains, the Washington D.C. area is in the perfect location for residents to take quick day trips or weekend getaways with family. Situated just three to four hours from Philadelphia and New York City, respectively, there are plenty of events, conventions, and destinations to explore for city-goers. If rural adventures are more your style, Washington D.C. has more than 60 miles of bicycle and pedestrian trails for avid bikers or hikers, and is home to beautiful public spaces such as the Kenilworth Aquatic Gardens, National Arboretum, and Potomac Park.
History and education lay the foundation for many iconic landmarks in the capital city. Here you'll find the National Museum of Natural History, Smithsonian American Art Museum, National Air and Space Museum, and the National Museum of American History. Washington D.C. is a premier destination for academic institutions from all over the country and has been recognized as one of the best scholastic environments in the U.S. Home to 208 public and 87 private academic institutions, the student-to-teacher average in D.C. is better than the national average at 13:1. Residents and tourists alike gather to reflect on our nation's history at monuments such as the Capitol Building, Lincoln Memorial and Washington Monument.
For the avid sports fan, Washington D.C. is an ideal city to discover a new home team. From the Capitals to the Wizards, the Redskins to the Nationals, there is a professional sporting event to attend virtually year-round. After the game, you can check out the city's eclectic mix of restaurants, gastropubs, breweries, and celebrity-owned eateries. The "Old Alexandria" neighborhood is known for its renowned mixologists, restauranteurs, and exciting nightlife. There are also 23 restaurants in Washington, D.C. that have earned highly coveted Michelin stars, and boast exceptional cuisine from all over the world.
Even more diverse than the food scene of D.C. are the people. The population of the capital city is made up of all different races, religions, and types of people who come from different lifestyles and economic standings. You can always find a local celebration, festival, and community event to attend that recognizes the eclectic city and all who call Washington, D.C. "home."
Check out our #photostory for an inside look at the communities we serve at Lane. Join our team by applying to work with us on one of our projects at https://www.laneconstruct.com/work-with-us/craft-trades and take a look at some of our additional projects that have helped shape Washington D.C.'s transformation: