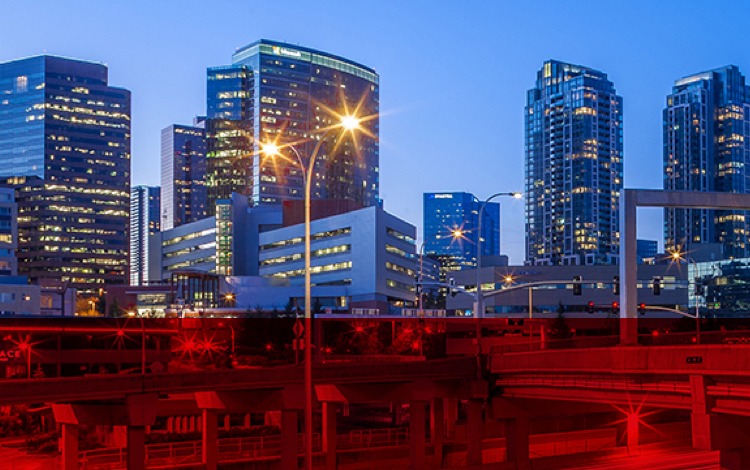 Photo: Florida Region
Throughout Lane's 130 year history, the company has grown into new markets around the country, helping to build some of the most iconic and long-lasting infrastructure in regions of varying climates, terrain, and community demographics. In the 1990s, Lane arrived in Florida as a heavy civil contractor, establishing a strong presence in the community a few years later with the acquisition of a small contracting company, Bulger, and Central Florida Hot Mix, a well-known paving company. In 2003 Lane acquired the Florida Division of EBY Construction setting the stage for the foundation of what exists as Lane today in Florida.
Over the last 15 years, the size of Lane's projects in Florida have drastically increased as the company now constructs over $300 million of work per year in the state, compared to $80 million just ten years ago. Some of Lane's most recognized projects include the award-winning A. Max Brewer Bridge, Wekiva Parkway, Suncoast Parkway, and SR 528/Innovation Way Interchange project. Last year, Lane completed the Florida's Turnpike Widening project, awarded the 2021 "Best in Construction Award" by the Florida Transportation Builders' Association (FTBA), and continues construction on the Caloosahatchee (C43) West Basin Storage Reservoir project, an Everglades restoration joint venture with parent company, Webuild. In 2021, Lane was awarded for an impressive safety performance and exceptional DBE utilization in Florida by the Florida Department of Transportation (FDOT) and FTBA. Followed by receiving the first ever Florida Transportation Builders Association (FTBA) Safety Excellence Award in 2022.
Lane has built strong relationships in Florida by building quality projects ahead of schedule and having leadership tenure within the company from project to project. Lane employees are working on important infrastructure projects partnering with FDOT, the Army Corp of Engineers, Federal Highway Administration, Orlando Airport Authority, Central Florida Expressway Authority, Water Management District, and various municipal counties. The company has completed work on dozens of infrastructure projects that positively affect the surrounding communities, environmental ecosystems, and economy. Completed projects include highways, bridges, water resources, airports, and rail.
Lane continues to strengthen its presence in Florida with two new project wins and is welcoming its newest project leadership, craft talent, and preferred vendor partners to join our work in Florida. As a leading builder of the nation's infrastructure, we provide a safe and rewarding working environment for talented and creative employees. We are a world-class company offering world-class benefits, and are looking for exceptional professionals to join our Florida-based teams.
If you would enjoy working in a dynamic environment and are looking for an opportunity to become part of one of the top-ranked contractor firms in the country, we invite you to explore our career opportunities or fill out a craft expression of interest.